Community Hub Officially Opened
On the 5th of October the Ochiltree Community Hub was officially opened by the East Ayrshire Council Chief Executive, Fiona Lees. The event was scheduled to celebrate the achievements of the local community and all involved in the 6 years of planning to the culmination of a community led facility opening. The event started with words from both the Chair of Ochiltree Community Hub, Alex Baird, and EAC Chief Executive Fiona Lees. The main themes thanking all those that have contributed to the Ochiltree Community Hub project. Alex praised his trustees in their drive and determination to deliver for the community. The Ochiltree Community Hub registered with OSCR in 2014 to raise funds to replace the previous East Ayrshire Council community facility that was closing. The group received grant funding from several local and national organisations reaching the grand total of £1.84 million. The opening was a chance to thank the designers, architects and building team for their vivid and imaginative designs to create a warm, welcoming facility that meets the needs of Ochiltree's vast demographic.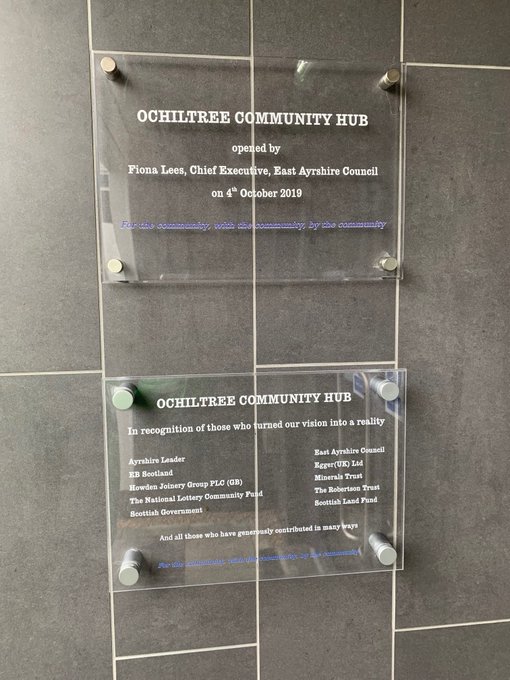 Representatives of the Scottish government, elected councillors, funders and local community groups were invited to celebrate together. The event came to a climax with the Ochiltree Primary school children, speaking of the Hub and then showing their musical talents in celebration. The children then placed their Time Capsule within the grounds of the Hub for future generations to discover in years to come.
Ochiltree Community Hub has recently been nominated in the 2019 SURF awards in the category of Community Led Regeneration. The Hub continues to reach new heights for the community of Ochiltree.